More info
The sign is manufactured in 3mm thick expanded PVC. This support is flexible and resists well over time. The colours keep their brightness in both rain and sun.
This sign is perforated on all four corners, which makes it very easy to hang it with a wire mesh, but you can also glue it (with double-sided tape, neoprene...), hang it with a cord like a frame, screw it or nail it.
Medium : 16 x 12 cm

, Looks perfect your mailbox, or on your front door. It is twice smaller than the LARGE size.
Large : 24 x 16 cm, my best-selling size and the one most often seen on a gate. It is

twice the size of the MEDIUM size.
Good UV colour stability, professional photos in high definition (giving more precise details)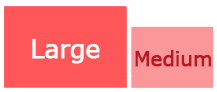 To see other models on this website, just type in the name of your breed of dog into the "search" toolbar at the top right of the screen.
My logo watermark (copyright protection) does not appear on the actual product...

The photo is subject to slight variations in size, colors or dog posture.
The size of the signs can be adjusted to the millimeter for maximum precision (artisanal product)