Everything is included in the price! The medal, the engraving and the Split Ring (very sturdy) to easily attach to the collar (no toll needed), whatever the size, shape, material or colour!
You do not pay by the number of Characters; the price is the price, there is no hidden costs!
My Tags are quality products, they are heavy, sturdy and the readability of their engraving is guaranteed for life! The face of the coloured models is covered with enamel for long durability. They are not cheap products, they are designed an engraved to last.
How to proceed to get the text of your choice:
Please fill the box "complete this boxes taking into account the numb..." at the bottom of this page.
Small : for a cat. It can have up to 3 lines of 10 characters each (including spaces). Size : about 2 cm (0.8 inch).
Back of the medals before engraving :
Split ring provided with your tag :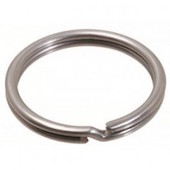 Several uses are possible for these medals according to your needs:
- cat medals
- car or house key rings, with a telephone in case of loss
- children's medal (with telephone, "just in case"), ideal for holidays, shopping centres...
- as a medal for an event (wedding...), to be worn around the neck...
- survival medal with blood type, health problems (diabetes...) and emergency phone...
there are as many medals as there are ideas.